"Your Refined Heavenly Home," by Douglas L. Callister (Devotional speech at Brigham Young University, September 19, 2006)
I don't expect to comment often on speeches, but I feel compelled to write about this one since it so eloquently addresses the culture of heaven and gives ideas for how we can bring that more into our lives, a critical topic if we are serious about becoming a Zion people. This speech was given by a leader of my church to students attending the Church-owned Brigham Young University. He introduces his topic with these words:
The nearer we get to God, the more easily our spirits are touched by refined and beautiful things. If we could part the veil and observe our heavenly home, we would be impressed with the cultivated minds and hearts of those who so happily live there. I imagine that our heavenly parents are exquisitely refined. In this great gospel of emulation, one of the purposes of our earthly probation is to become like them in every conceivable way so that we may be comfortable in the presence of heavenly parentage and, in the language of Enos, see their faces "with pleasure." . . .

Today I would like to peek behind the veil that temporarily separates us from our heavenly home and paint a word picture of the virtuous, lovely, and refined circumstances that exist there. I will speak of the language, literature, music, and art of heaven, as well as the immaculate appearance of heavenly beings, for I believe that in heaven we will find each of these in pure and perfected form.
He goes on to encourage the students to pursue the best literature, music, and art the world has to offer.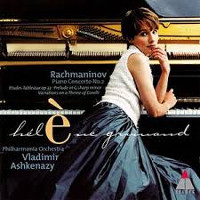 I'll have to say, if I had heard this speech when I was in college, I would have received it with mixed feelings. On one hand, I had been taught a bit of art history in high school and had enjoyed looking at the slides of classic art. On the other hand, my high school art teacher liked to listen to classical violin music, which sounded like screeching to me. I took a humanities class my first semester in college and failed the opera unit. I hated the highly trained voices so much that I had trouble concentrating on the music. Instead of focusing on the melodies, I memorized the peculiarities of the voices. Imagine my dismay when the professor played instrumental versions for the test! Despite my distaste for opera at that time, I heard Rachmaninov's Piano Concerto No. 2 for the first time in that class and loved it, which gave me the motivation to seek out more classical music.
Continue reading