Faust, Part 1, by Johann Wolfgang von Goethe (German classic)
"The story concerns the fate of Faust in his quest for the true essence of life. . . . Frustrated with learning and the limits to his knowledge, power, and enjoyment of life, he attracts the attention of the Devil (represented by Mephistopheles), who makes a bet with Faust that he will be able to satisfy him; a notion that Faust is incredibly reluctant towards, as he believes this happy zenith will never come. . . . In the first part, Mephistopheles leads Faust through experiences that culminate in a lustful relationship with Gretchen, an innocent young woman."
Adam Bede, by George Eliot (English Classic)
"The story of a beautiful country girl's seduction by the local squire and its bitter, tragic sequel is an old and familiar one which George Eliot invests with peculiar and haunting power."
---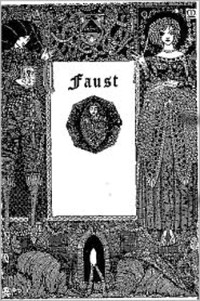 I suggested the play Faust for my book group because I had seen so many references to it in other literature and understood it to be one of the greatest pieces of literature written in German. I couldn't remember reading any German literature with the group, which made it a book that would require us to stretch a little. Actually, it made us stretch a lot. I was the only one who had finished the first part on the evening of the review. (Since I was leading the discussion, I was motivated!) I was only able to get through it by relying heavily on a commentary. Because Faust is a play, a considerable bit of action simply isn't in the text, and for that reason, I do suggest consulting a commentary if you are reading it for the first time and not taking a class.
I'll have to admit that I dislike the first part of Faust. While I certainly recognize the masterful way it is written and think the personification of Satan in the character Mephistopheles is interesting, I have no sympathy or fellow feeling for Faust at all. While I was reading the play, I took my fifteen-year-old daughter to a church youth event where a man spoke to the kids about Internet safety, and I realized that Faust, with the magic potion he drinks to make himself thirty years younger, is like those predators online who hide behind youthful personas to prey on girls like my daughter. I ranted and raved about as much during the book review, and I don't think the other women disagreed with me! I told them I thought I would like this story better if it were told from a woman's point of view. Fortunately, the world has the Faust story told from a woman's point of view—Adam Bede, written by George Eliot, a great admirer of Goethe. I had already suggested Adam Bede a time or two to the group, but I think it was its similarity to Goethe's treatment of the Faust legend that made it an obvious choice for our 2015 list.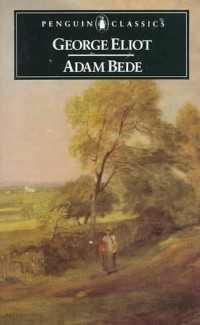 In both stories, a man seduces a young girl and abandons her. The girl has a baby and is later convicted for killing the child. The tragedy moves the man to feel remorse, and the girl repents in prison. In Adam Bede, Captain Arthur Donnithorne, the grandson of the squire, is the Faust character, and Hetty Sorrel, the niece of a prosperous farmer, is Gretchen. George Eliot's story has several important characters Goethe's does not—the hard-working carpenter Adam Bede, the young Methodist minister Dinah Morris, the rector Adolphus Irwine, and the Poysers, who are tenant farmers on the Donnithorne estate. These other characters round out the story and make it a more pleasant read than Faust—at least to me.
Eliot's psychological depth gives the reader a firsthand knowledge of Arthur's rationalizations, Hetty's sweet pettiness, Adam's tendency in the beginning to judge sinners harshly, Mr. Irwine's affection and understanding of Arthur, and Dinah's spiritual knowledge and attitude of consecration. The way these characters help each other in a time of crisis and, in time, forgive each other gives me a glimpse of Zion. The way the characters support each other, in fact, makes the tragedy that occurs in the story more bearable and, at the same time, more horrible, because it could have been so easily prevented had both Arthur and Hetty earlier confided their struggles to the people who love them and leaned on the supportive community they had all along.
In both Faust and Adam Bede we see that evil is often closer and more personal than we think it is, and in Adam Bede, we see that Zion, too, is often closer and more accessible than we realize.
Mr. Irwine to Adam:
The evil consequences that may lie folded in a single act of selfish indulgence is a thought so awful that it ought surely to awaken some feeling less presumptuous than a rash desire to punish . . . Don't suppose I can't enter into the anguish that drives you into this state of revengeful hatred. . . .

There is no sort of wrong deed of which a man can bear the punishment alone; you can't isolate yourself and say that the evil which is in you shall not spread. Men's lives are as thoroughly blended with each other as the air they breathe: evil spreads as necessarily as disease. I know, I feel the terrible extent of suffering this sin of Arthur's has caused to others; but so does every sin cause suffering to others besides those who commit it.

Book 5, Chapter 41
Dinah to Hetty:
God's love and mercy can overcome all things—our ignorance, and weakness, and all the burden of our past wickedness—all things but our wilful sin, sin that we cling to, and will not give up. You believe in my love and pity for you, Hetty, but if you had not let me come near you, if you wouldn't have looked at me or spoken to me, you'd have shut me out from helping you. I couldn't have made you feel my love; I couldn't have told you what I felt for you. Don't shut God's love out in that way, by clinging to sin.

Book 5, Chapter 45
---
The featured image came from Pixabay.