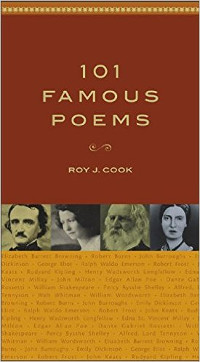 101 Famous Poems, edited by Roy J. Cook. First edition published in 1916.
"Poetry has the power to give us strength, inspiration, and hope, helping us to make meaning from our hectic lives and giving us the opportunity to appreciate new ways of thinking about universal themes and observations.
"Whether you are a newcomer to poetry or a lifelong lover of verse, you will find within the pages of this indispensable compilation the greatest poems of all time, powerful words that have delighted and inspired generations of readers—words that are sure to inspire you today."
---
I will be the first to admit that I'm a "newcomer to poetry." I've never disliked poetry, but I've also never had much patience with it. I like a terrific story, and that narrative drive is what keeps me reading. As I grow older, however, I'm gaining a greater appreciation for the way poetry can make beautiful language heavenly. The leader of the book club I belong to, on the other hand, loves poetry and has been working to help the rest of us gain a greater appreciation for it. She recommended this book for the group, and I'm glad she did! I started from the beginning, reading a few poems at a time. I'm glad I took this particular approach, because it enabled me to get a much more comprehensive view of a bygone world described by a variety of poets from different time periods. All of these poets are dead, and the world they wrote about is gone—history to us now—but to them the joys and sorrows they wrote about were real.
This poem—which, originally published in 1918, is one of the newest in the collection—captures this idea:
Grass

By Carl Sandburg

Pile the bodies high at Austerlitz and Waterloo.
Shovel them under and let me work—
I am the grass; I cover all.

And pile them high at Gettysburg
And pile them high at Ypres and Verdun.
Shovel them under and let me work.
Two years, ten years, and passengers ask the conductor:
What place is this?
Where are we now?

I am the grass.
Let me work.
All of those harrowing events of history have passed away and are covered with "grass" to us, but we are taught in the scriptures that even grass isn't permanent. The glories of mortal life may pass away as grass does, but God's life and love are everlasting. As I read the words of these poets, it's impossible for me to believe that their souls are buried under the grass with their bodies.
As for man, his days are as grass: as a flower of the field, so he flourisheth.

For the wind passeth over it, and it is gone; and the place thereof shall know it no more.

But the mercy of the Lord is from everlasting to everlasting upon them that fear him, and his righteousness unto children's children;

To such as keep his covenant, and to those that remember his commandments to do them.

The Lord hath prepared his throne in the heavens; and his kingdom ruleth over all.

Psalm 103:15-19
---
The photo "Blue Gravestone on Grass" is credited to Novaun Novels and licensed as follows:
This work by Novaun Novels is licensed under a Creative Commons Attribution-ShareAlike 4.0 International License.