Fireweed, by Terry Montague (Christian fiction, Latter-day Saint)
When sixteen-year-old Lisel Spann sees her brother off to fight in the coming war against what she and her German compatriots have been told is Polish aggression, she "is hardly prepared for the coming years when the storm erupts in full fury. She fights feeling of hopelessness as she watches the Nazis tear her loved ones from her life. Before her eyes her beautiful city is turned to rubble under the allied bombs." With the help of her family and neighbors, she struggles to survive and hold on to her faith.
---
If Feathers and Rings is the Latter-day Saint novel I keep going back to, Fireweed is the one that has stuck with me the most. For that reason, when I recently saw it on the shelf of used books at the local bookstore that sells products to members of The Church of Jesus Christ of Latter-day Saints, I bought it to re-read. When I opened it up and read in the author's introduction that she is a descendant of Germans who lived for a century in Russia before immigrating to the United States, I felt an instant connection to her since I, too, am a descendant of the same group of people, although my ancestors settled in Kansas, not Idaho, and I didn't grow up with a connection to the German community (aside from my mother's stories) in Topeka the way the author did in Rupert, Idaho. I didn't, in fact, know enough about my own family history at the time I originally read Fireweed to see the connection, but I'm so delighted to see it now!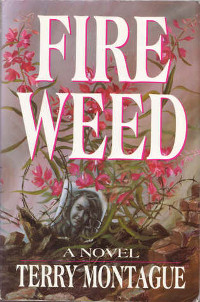 I originally borrowed Fireweed from a friend back in the mid-1990s, and she gave it to me read, wondering what I would think of it. I believe the reason she was so curious about my reaction to the book was because it was significantly different from other novels published by the big Latter-day Saint publishers at that time, and I'm not sure that she liked it. This book is stark and disturbing in a way contemporary Christian fiction (at least the fiction I've read) rarely is. As people of faith, we like to think that if we do everything in our power to live righteous lives, God will protect us from life's calamities, and the stories we embrace support that fantasy. Even when set during times of horrific violence, the stories we love typically show narrow escapes from death and romances that end in marriage.
Fireweed, on the other hand, details what life was really like for German members of my Church during World War II. It does show some narrow escapes from death and other extraordinary events, but one of the most interesting things to me about this novel was the way Montague worked these things into the story more as the Lord's tender mercies rather than as devices to smooth out the plot. What happy endings do come out of this book are not the ones readers will necessarily expect or like. Another thing about this book that I found extremely gratifying was the way Montague was able to take one of the most violent periods of human history and write about it in such a way that it never overstepped the bounds of wholesomeness, never lost sight of the true hope for a better world that comes from living the commandments of God. Yes, this novel is stark and disturbing, but it is also moving and utterly compelling.
I'll admit, getting a glimpse of Zion from a story set in such a nightmarish world was not easy, although to survive such ordeals with faith still intact is certainly a sign of holiness, and Lisel accomplishes that feat. Montague, however, takes the idea of consecration one step further. In the epilogue, Lisel is in Utah to receive her long-anticipated temple blessings. The year is 1957, and her friend, a missionary who served in Germany before the war, has made it possible for her to immigrate to the United States. This is the way Lisel responds to this generous gift:
"When I was a girl I thought I wanted to live in America because everyone was happy here, everyone had nice clothes and enough food to eat. I thought everyone loved each other and lived in a constant state of righteousness and peace. Now I know the place I was longing for was not America or Utah or Salt Lake City. It was the home I left when I came to this earth. I still long for that place. But for now, I must go where I am needed. And that is . . . Germany."

"But Germany does not exist any longer," Robert reminded her. "It is chopped up and governed by other countries."

"I know that, too," Lisel replied patiently. "But we were a divided people long before the Russians came. Our government was so wicked and corrupt, even the good-hearted could not change it. It took complete destruction to root out the evil. It took fear and deprivation and death to humble us. Perhaps we are not sufficiently humble yet. I am happy for the German Saints who found a new life in America. But, I feel in my heart that Germany one day can be a free and great nation. I believe its future must be fostered by someone who has shared its past. I believe I am needed in Germany. I must go where I am needed."

Epilogue
We often like to think, as Lisel did as a girl, that Zion is a place the Lord offers to us on a silver platter, and that when He's ready to give it to us and we're ready to receive it, we can just reach out and take it. In reality, however, Zion is something we build with the Lord's help, and we do that by living as He has directed us to live and by going to those places He has called us to go—where He most needs us—and those places are not often comfortable, just as Lisel discovers in her own life.
---
The featured image came from Pixabay.