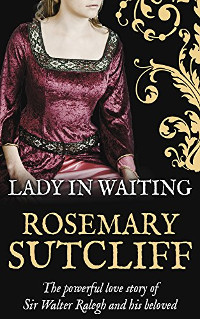 Lady in Waiting, by Rosemary Sutcliff (historical)
"Handsome and gifted, Walter Ralegh was a star even in a court of brilliant men ruled by one of the greatest monarchs of all time, Elizabeth I.
"Ralegh held position and power, and was loved by the Queen, but his dream was to conquer new lands for Elizabeth, to find El Dorado.
"Bess Throckmorton was one of the Queen's Maids of Honour.
"Shy and retiring, her dream was to capture the heart of the proud and restless Ralegh, in whose life it seemed she would always come second.
"But when Elizabeth dies and James I comes to power, Ralegh's fortunes take a dramatic turn . . .
"Once a beloved courtier, he becomes a disgraced prisoner.
"And his dreams of reaching El Dorado seem to be forever out of reach. "
---
I began reading this book in August, when I was preparing to go to the Outer Banks in North Carolina with my family. No trip to the Outer Banks is ever complete for me until I make a visit to Roanoke Island, the site of the first English colony in America, which was organized by Sir Walter Ralegh. Reading a novel about his wife Bess Throckmorton seemed fitting.
The focal point of the story isn't Bess or even Ralegh; it's the marriage between them, with all of its ups and downs and imperfections—and the devotion and passion that abides in the deepest places of the soul. In the end, Bess laments that she would grieve her husband's death less if she could be sure of finding him after her mortal life. Always the dreamer and adventurer, he consoles her by saying:
"Sweetheart, from the outermost curves of Infinity, God led your spirit and mine to find each other. I will not believe He would have taken so great pains if we were to meet only once between the dark and the dark."

Chapter 25
As a believer in eternal marriage, I find this sentiment beautiful and true, particularly because it came after Walter and Bess had experienced decades of living life together. Sir Walter Ralegh may not have found the legendary golden city he was looking for, but in this novel, he does express faith in the existence of an eternal life with the treasure he's had all along—his devoted wife.
---
The photo of Fort Raleigh is credited to Novaun Novels and licensed as follows:
This work by Novaun Novels is licensed under a Creative Commons Attribution-ShareAlike 4.0 International License.