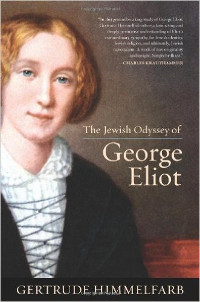 The Jewish Odyssey of George Eliot, by Gertrude Himmelfarb (biography)
"It is one of the curiosities of history that the most remarkable novel about Jews and Judaism, predicting the establishment of the Jewish state, should have been written in 1876 by a non-Jew—a Victorian woman and a formidable intellectual, who is generally regarded as one of the greatest of English novelists. And it is still more curious that Daniel Deronda, George Eliot's last novel, should have been dismissed, by many of her admirers at the time and by some critics since, as something of an anomaly, an inexplicable and unfortunate turn in her life and work. . . .
"Why did this Victorian novelist, born a Christian and an early convert to agnosticism, write a book so respectful of Judaism and so prescient about Zionism? And why at a time when there were no pogroms or persecutions to provoke her? What was the general conception of the "Jewish question," and how did Eliot reinterpret that "question," for her time as well as ours?"
---
I learned about this book last year after I re-read Daniel Deronda and was preparing to write a blog post about it, available here. George Eliot's prescience about Zionism fascinates me, and I was eager to learn more about her path to writing a novel that is as unusual as it is powerful. Himmelfarb does a superb job giving historical context to George Eliot's work and showing how "her vision of Judaism and a Jewish state was all the more remarkable precisely because it was disinterested, because, unlike Deronda . . . , she was not Jewish and had no personal stake in it. It was still more remarkable because she came to it from a large philosophical perspective and from an intimate knowledge of the most sophisticated critics of Judaism. She knew everything her opponents (and some of her friends) might say in refutation of her views, having once shared some of them. Her conversion, not to Judaism but to a respect for religion in general and Judaism in particular, was all the more notable because it involved a repudiation of some of the most powerful ideologies of her time: the belligerent irreligion and anti-Judaism of the Young Hegelians, the attenuated, syncretistic religion of the Positivists, and the secular humanism of enlightened, 'advanced' liberals." (The Jewish Odyssey of George Eliot, Epilogue)
The Jewish Odyssey of George Eliot helped me appreciate Daniel Deronda even more than I already did, and I thought it was a work of genius before I read Himmelfarb's book. I believe that Eliot's vision transcends the Jewish drive to unite and establish a national homeland in Palestine because it explores the spiritual bonds of family and heritage in a way that has universal application. Deronda's story certainly resonates with me, a Mormon woman who, by Himmelfarb's definition, is as "disinterested" in Judaism as George Eliot was. Himmelfarb explores the reasons George Eliot wrote Daniel Deronda from a historical and biographical perspective. I would like to make an observation on how George Eliot was able to write a book with with such an expansive vision of Zion from a spiritual perspective.
As intellectually gifted as George Eliot was, and as much research on Judaism as she did, I don't believe she could have written something with the spiritual depth of Daniel Deronda without being the recipient of the Spirit of the Lord as described in Joel 2:28-29:
And it shall come to pass afterward, that I will pour out my spirit upon all flesh; and your sons and your daughters shall prophesy, your old men shall dream dreams, your young men shall see visions:

And also upon the servants and upon the handmaids in those days will I pour out my spirit.
Christians in general believe that this scripture began to be fulfilled on the day of Pentecost, when God poured out His Spirit on people of many nationalities, who were subsequently baptized by the apostles. At that time, the apostle Peter quoted Joel and told the multitude that what they were witnessing was a fulfillment of that prophecy (Acts 2).
One of the presidents of my own church carried this even further in October 2001, when he declared that Joel 2:28-29 has been fulfilled in our own time through the "tremendous cascade of enlightenment" God has "poured out upon the world." He went on to say:
There has been more of scientific discovery during these years than during all of the previous history of mankind. Transportation, communication, medicine, public hygiene, the unlocking of the atom, the miracle of the computer, with all of its ramifications, have blossomed forth, particularly in our own era. During my own lifetime, I have witnessed miracle after wondrous miracle come to pass. We take it for granted.

Gordon B. Hinckley, "Living in the Fulness of Times," General Conference October 2001. President Hinckley was born in 1910 and died in 2008.
The prophecy from Joel, as well as the observations from both Peter and President Hinckley, allow for the Spirit of God to have influence on a wide group of people that could be described as "all flesh." George Eliot, herself, through the words of the character Mordecai to Daniel Deronda, describes this power of God being accessed by being "obedient to the laws of justice and love":
"Daniel, from the first, I have said to you, we know not all the pathways. Has there not been a meeting among them, as of the operations in one soul, where an idea being born and breathing draws the elements toward it, and is fed and glows? For all things are bound together in that Omnipresence which is the place and habitation of the world, and events are of a glass wherethrough our eyes see some of the pathways. And if it seems that the erring and unloving wills of men have helped to prepare you, as Moses was prepared, to serve your people the better, that depends on another order than the law which must guide our footsteps. For the evil will of man makes not a people's good except by stirring the righteous will of man; and beneath all the clouds with which our thought encompasses the Eternal, this is clear—that a people can be blessed only by having counsellors and a multitude whose will moves in obedience to the laws of justice and love. For see, now, it was your loving will that made a chief pathway, and resisted the effect of evil; for, by performing the duties of brotherhood to my sister, and seeking out her brother in the flesh, your soul has been prepared to receive with gladness this message of the Eternal, 'behold the multitude of your brethren.'"

Daniel Deronda, Book 8, Chapter 63
George Eliot also observes the role that "the Invisible Power" plays in the "great movements of the world" and how shocking it can be when it becomes visible to individuals who haven't been paying attention to it:
There comes a terrible moment to many souls when the great movements of the world, the larger destinies of mankind, which have lain aloof in newspapers and other neglected reading, enter like an earthquake into their own lives—where the slow urgency of growing generations turns into the tread of an invading army or the dire clash of civil war, and gray fathers know nothing to seek for but the corpses of their blooming sons, and girls forget all vanity to make lint and bandages which may serve for the shattered limbs of their betrothed husbands. Then it is as if the Invisible Power that had been the object of lip-worship and lip-resignation became visible, according to the imagery of the Hebrew poet, making the flames his chariot, and riding on the wings of the wind, till the mountains smoke and the plains shudder under the rolling fiery visitations.

Daniel Deronda, Book 8, Chapter 69
In Daniel Deronda, along with the work of other authors whose words resonate across time and culture, the Invisible Power becomes visible, and Joel's prophecy becomes reality. Discerning the truth as we understand it from an unlikely source can affect us like an earthquake, and in that movement of the soul, we can be edified in ways we never expected. I love that feeling, which is why Daniel Deronda is such a treasure to me and why I continue to seek out other great literature.
---
The featured image came from Pixabay.