I read Betsy-Tacy by Maud Hart Lovelace several years ago with my book group and decided it was time to finish the series. Betsy-Tacy and Tib is my favorite of the four children's books. Several of the antics made me laugh out loud—especially the chapter "Being Good."
It begins with these words:
It was strange that Betsy and Tacy and Tib ever did things which grown-ups thought were naughty, for they tried so hard to be good. They were very religious. Betsy was a Baptist, and Tacy was a Catholic, and Tib was an Episcopalian.

They loved to sit on Tacy's back fence and talk about God.
In this particular conversation, they decide that they won't get to Heaven if all they do is think about fun. Tacy observes that "the saints didn't have much fun" and that "they used to wear hair shirts" to "make themselves gooder. And if they did anything bad they put pebbles in their shoes."
This gives Betsy a profound idea. The girls will establish "The Christian Kindness Club" to help them be good so that they will get to Heaven. She explains, "We'll never get to be good if we don't punish ourselves for being bad. A child could see that."
So they empty the marbles from their little bags and pin them inside of their dresses. Every time a girl does something bad, she'll put a pebble into the bag. If she does something really bad, she'll put two or three pebbles into the bag.
It doesn't take long for all three girls to realize how fun it is to put pebbles into the bags, and they become naughtier and naughtier as they race around as if "possessed," doing things that will allow them to put pebbles into the bags. Their bags are almost full, when the girls and a couple of younger siblings end up in a tomato fight.
Betsy's mother comes out of the house at that moment, and suddenly The Christian Kindness Club isn't so much fun anymore. That evening, the girls meet at the fence again and decide to change their club a little. They agree that it didn't make them "good" that day; it made them "bad." But they agree that they really do need to keep being good, and then they "looked at the sunset and thought about God."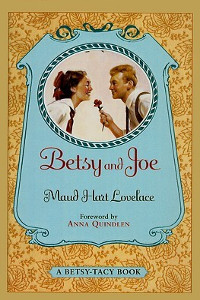 The girls are too innocent to understand at age eight that being good enough for Heaven won't require them to punish themselves. Struggles are coming that will refine them and mold them into the very good women they want to become. Eight more books follow in the series, all based on the young lives of Maud Hart Lovelace and her friends, where the reader gets to see firsthand that refining process, particularly in Betsy, who is the character based on Lovelace herself.
All ten Betsy-Tacy books are so wonderfully innocent, and yet, one of the best things about them is that Betsy's far from being perfect. She makes goals and doesn't keep them, she doesn't always do as well in school as she knows she should, and she makes all kinds of other mistakes in life and love. Through it all, though, she learns and grows and is always likeable and relatable. In Chapter 2 of Betsy and the Great World, her father consoles her with these words, "We all make mistakes. If you've made a mistake in getting so little out of college, why, you have . . . that's all. And it would be a pretty poor world if we couldn't sweep up our mistakes, now and then, and go ahead."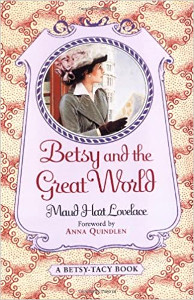 Instead of returning to college, Betsy's father suggests she continue her education by spending a year in Europe and offers to pay for it. Betsy sets out in January 1914. She isn't aware—but many readers will be—that before the summer is over, Europe will be at war. That fact made Betsy and the Great World especially fascinating and poignant to me. Betsy spends many weeks in Munich, Germany. She makes friends there, learns the language well enough to get along, and ends up loving the German people and many things about their culture. She sells a story and makes enough money to take a little sight-seeing trip, and when her friend asks whether her parents will approve of her traveling alone, she replies, "Not this tiny jaunt! Germany is as safe as my own back yard" (Chapter 13).
It's no wonder Betsy is shocked when the rumors of war start whirling. She proclaims, "A war in these civilized days is absolutely unthinkable!" She's in England when war is declared. I love these last two sentences of Chapter 20: "Betsy did the only thing she could do at such a moment. She got down on her knees." The Christian Kindness Club notwithstanding, Betsy has developed into a woman whose first instinct in a crisis is to turn to God.
The Betsy-Tacy series ends shortly after the United States enters the war. The Betsy-Tacy series is so similar to L.M. Montgomery's Anne of Green Gables series in some ways that I decided—at long last—to read the eighth book of that series, Rilla of Ingleside, which also takes place on the home front during World War I. Fifteen-year-old Rilla, however, lives in Canada, which enters the war at the beginning. All of a sudden, Rilla's life is turned inside-out, and she's forced to abandon her frivolous concerns when the first of her brothers goes to war.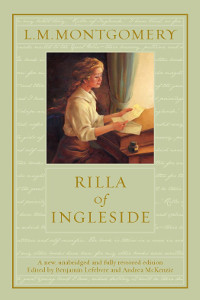 I wasn't sure what to expect when I began reading Rilla of Ingleside. It's much darker than the earlier books in the series, and I didn't get to see much of the sparkling, upbeat Anne, who is forced to watch all three of her sons go to war. Montgomery did an excellent job creating the atmosphere of anxiety and suspense that must have existed in every family that sent its members to fight in World War I. She also did an excellent job dramatizing the changes that come to the various characters, especially Rilla.
When Rilla learns that the second of her three brothers enlisted, she "did not sleep that night. . . . The body grows slowly and steadily, but the soul grows by leaps and bounds. It may come to its full stature in an hour. From that night Rilla Blythe's soul was the soul of a woman in its capacity for suffering, for strength, for endurance" (Chapter 14). Two years into the war, her friend and former school teacher asks Rilla if she would exchange those difficult years for ones of fun.
"No," said Rilla slowly. "I wouldn't. It's strange—isn't it?—They have been two terrible years—and yet I have a queer feeling of thankfulness for them—as if they had brought me something very precious, with all their pain. I wouldn't want to go back and be the girl I was two years ago, not even if I could. Not that I think I've made any wonderful progress—but I'm not quite the selfish, frivolous little doll I was then. I suppose I had a soul then, Miss Oliver—but I didn't know it. I know it now—and that is worth a great deal—worth all the suffering of the past two years. And still"—Rilla gave a little apologetic laugh, "I don't want to suffer any more—not even for the sake of more soul growth. At the end of two more years I might look back and be thankful for the development they had brought me, too; but I don't want it now."

Chapter 22
I'm sure that most of us would rather not endure strange and difficult times, but once they are behind us, perhaps we, like Rilla, will be thankful for our own "soul growth."
---
The featured image Maud Hart Lovelace's childhood home is attributed to Jonathunder and licensed under the Creative Commons Attribution-Share Alike 3.0 Unported license.