Our Mutual Friend, by Charles Dickens (British classic)
"A body is found in the Thames and identified as that of John Harmon, a young man recently returned to London to receive his inheritance. Were he alive, his father's will would require him to marry Bella Wilfer, a beautiful, mercenary girl whom he had never met. Instead, the money passes to the working-class Boffins, and the effects spread into various corners of London society."
---
Our Mutual Friend details corruption and falsity in those "various corners of London society" to such a degree that a glimpse of Zion didn't come easily to me as I read it. In this Babylon-like society, the altruistic mingle with the mercenaries, and distinguishing between them isn't always simple. One thing that Dickens does well in this novel is show how these types exist at all levels of society and that it is possible for a person to change—sometimes for the better and, just as often, for the worse.
As I was thinking about this novel after I finished it, I became aware of profound themes that illuminated the novel for me in ways that surprised and awed me. I almost want to re-read it again right away so that I can delve more deeply into those themes. The twists and turns of this story are half the fun of it, and I don't want to spoil that fun for those who haven't read it by saying too much. For that reason, I will try to tread carefully.
The "our mutual friend" character in this story functions, in many ways, as a representation of God. His life touches that of every other character in the book in some way, which, of course, is why the title is so perfect. He watches over other characters, he sees goodness in them that others don't see, he quietly rights wrongs, and he devises tests that bring out the best—and sometimes the worst—in others. His character, in many ways, sets the standard of goodness for the other characters. He moves through society incognito, but in personality and action, he is always authentic. A great earthly treasure is at stake, and the way the characters react to "our mutual friend" while incognito determines just how much of that treasure they acquire at the end of the book.
As I pondered this idea of entertaining "angels unawares" theme (Hebrews 13:2), I recognized an expansion of it that gave me an even greater glimpse of Zion. The way this novel explores the institution of marriage and the impact pursuit of money and status has on it mirrors the marriage metaphor that runs through the scriptures. The Lord often refers to Himself as the bridegroom or husband of His people, and He refers to His people as a bride or wife. Here is an example from the Bible that explains this symbolic marriage and its relationship to the heavenly treasure He has the power to bestow:
For thy Maker is thine husband; the Lord of hosts is his name; and thy Redeemer the Holy One of Israel; The God of the whole earth shall he be called.

For the Lord hath called thee as a woman forsaken and grieved in spirit, and a wife of youth, when thou wast refused, saith thy God.

For a small moment have I forsaken thee; but with great mercies will I gather thee.

In a little wrath I hid my face from thee for a moment; but with everlasting kindness will I have mercy on thee, saith the Lord thy Redeemer. . . .

O thou afflicted, tossed with tempest, and not comforted, behold, I will lay thy stones with fair colours, and lay thy foundations with sapphires.

And I will make thy windows of agates, and thy gates of carbuncles, and all thy borders of pleasant stones.

Isaiah 54:5-8, 11-12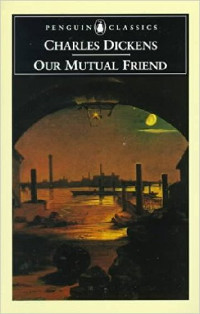 I don't know whether Dickens had any idea that he was including such profound scriptural themes in this novel, but they are there nonetheless, and he explores them with satirical gusto. One of the ways he does this is to show the marriage between a "mature young lady . . . of property" to a "mature young gentleman . . . of property." Both of these mercenaries have deceived all connected to them into believing they are rich and are shocked shortly after their marriage to learn that neither one of them has anything.
This "mature young" bride and groom are married at the home of Mr. and Mrs. Veneering, who are "bran-new people in a bran-new house in a bran-new quarter of London." Dickens goes on to say that:
Everything about the Veneerings was spick and span new. All their furniture was new, all their friends were new, all their servants were new, their plate was new, their carriage was new, their harness was new, their horses were new, their pictures were new, they themselves were new, they were as newly married as was lawfully compatible with their having a bran-new baby, and if they had set up a great-grandfather, he would have come home in matting from the Pantechnicon, without a scratch upon him, French polished to the crown of his head.

Book 1, Chapter 2
Among the guests at the wedding is a woman who could be considered a representation of the sort of woman the "mature young" bride is in training to become:
Betimes next morning, that horrible old Lady Tippins (relict of the late Sir Thomas Tippins, knighted in mistake for somebody else by His Majesty King George the Third, who, while performing the ceremony, was graciously pleased to observe, 'What, what, what? Who, who, who? Why, why, why?') begins to be dyed and varnished for the interesting occasion. She has a reputation for giving smart accounts of things, and she must be at these people's early, my dear, to lose nothing of the fun. Whereabout in the bonnet and drapery announced by her name, any fragment of the real woman may be concealed, is perhaps known to her maid; but you could easily buy all you see of her, in Bond Street; or you might scalp her, and peel her, and scrape her, and make two Lady Tippinses out of her, and yet not penetrate to the genuine article. She has a large gold eye-glass, has Lady Tippins, to survey the proceedings with. If she had one in each eye, it might keep that other drooping lid up, and look more uniform. But perennial youth is in her artificial flowers, and her list of lovers is full.

Book 1, Chapter 10
Determined to retain the approval and society of people like the Veneerings and Lady Tippons and the material comforts they possess, the "mature young" bride and groom contract a marriage with no foundation in anything but avarice. During the course of the book, they distrust and despise each other and remain trapped in a corrupt union that is a punishment for both of them. At the other extreme, another marriage is contracted based on mutual admiration and affection. When the husband asks the wife at a time of crisis, "Even knowing this, you can trust me?" She answers, "I can trust you . . . with all my soul." In this particular situation, the husband is justified in asking the wife to trust him, and the wife does not hurt herself by doing so—she has faith in a person who really does meet all of the expectations she has for him. The text goes on to say,
The kindling triumph in his face was bright indeed, as he looked up and rapturously exclaimed, what had he done to deserve the blessing of this dear confiding creature's heart! Again she put her hand upon his lips, saying, 'Hush!' and then told him, in her own little natural pathetic way, that if all the world were against him, she would be for him; that if all the world repudiated him, she would believe him; that if he were infamous in other eyes, he would be honoured in hers; and that, under the worst unmerited suspicion, she could devote her life to consoling him, and imparting her own faith in him to their little child.

Book 4, Chapter 12
What a beautiful description of the trust that should exist between a husband and wife! What an apt description of how God's people should trust Him!
Here are two more scriptures that point out the rewards for rejecting the emptiness and falsity upheld by the Veneerings of the world and being true to our "husband" the Lord:
I will greatly rejoice in the Lord, my soul shall be joyful in my God; for he hath clothed me with the garments of salvation, he hath covered me with the robe of righteousness, as a bridegroom decketh himself with ornaments, and as a bride adorneth herself with her jewels.

Isaiah 61:10
Let us be glad and rejoice, and give honour to him: for the marriage of the Lamb is come, and his wife hath made herself ready.

And to her was granted that she should be arrayed in fine linen, clean and white: for the fine linen is the righteousness of saints.

Revelation 19:7-8
---
The featured image came from Pixabay.