The Secret Garden, by Frances Hodgson Burnett (Children's classic)
"Born in India, the unattractive and willful Mary Lennox has remained in the care of servants for as long as she can remember. But the girl's life changes when her mother and father die and she travels to Yorkshire to live with her uncle. Dark, dreary Misselthwaite Manor seems full of mysteries, including a very special garden, locked tight for 10 years. With the help of Dickon, a local boy, Mary intends to uncover its secrets."
The House of the Seven Gables, by Nathaniel Hawthorne (American classic)
"Built over an unquiet grave, the House of the Seven Gables carries a dying man's curse that blights the lives of its residents for over two centuries. Now Judge Jaffrey Pyncheon, an iron-hearted hypocrite and intellectual heir to the mansion's unscrupulous founder, is attempting to railroad a pair of his elderly relatives out of the house. Only two young people stand in his way–a visiting country cousin and an enigmatic boarder skilled in mesmerism."
---
As soon as I learned that The Secret Garden would be on my book group's schedule for 2015, I thought it would be nice to re-read The House of the Seven Gables also and comment on both novels. On the surface, these books appear quite different, but I knew they were similar in at least one respect—both stories show gardening as being an activity that nourishes both the body and spirit. By the time I was finished reading the books, I realized that they are even more similar than I had remembered; they both address the healing of emotionally diseased individuals and families in old manor houses that symbolically take on the sickly qualities of the families that inhabit them. One of the characters in The House of the Seven Gables describes this relationship between the families and their generational homes:
"The soul needs air; a wide sweep and frequent change of it. Morbid influences, in a thousand-fold variety, gather about the hearths, and pollute the life of households. There is no such unwholesome atmosphere as that of an old home, rendered poisonous by one's defunct forefathers and relatives."

The House of the Seven Gables, Chapter 17.
The family illness in The Secret Garden has lasted a decade; in The House of the Seven Gables, it has lingered for two centuries. Both stories prescribe a similar remedy—receiving loving help from healthy outsiders, adopting wholesome thoughts, engaging in hard but nourishing work, and opening oneself to both physical and spiritual sunshine in abundance. Notice how similar these two passages are in the way they describe both physical and spiritual light:
From The Secret Garden:
Colin took off his cap and the sun shone on and warmed his thick hair as he watched Dickon intently. Ben Weatherstaff scrambled up from his knees and bared his head too with a sort of puzzled half-resentful look on his old face as if he didn't know exactly why he was doing this remarkable thing.

Dickon stood out among the trees and rose-bushes and began to sing in quite a simple matter-of-fact way and in a nice strong boy voice:

"Praise God from whom all blessings flow,
Praise Him all creatures here below,
Praise Him above ye Heavenly Host,
Praise Father, Son, and Holy Ghost.
Amen."

When he had finished, Ben Weatherstaff was standing quite still with his jaws set obstinately but with a disturbed look in his eyes fixed on Colin. Colin's face was thoughtful and appreciative.

"It is a very nice song," he said. "I like it. Perhaps it means just what I mean when I want to shout out that I am thankful to the Magic." He stopped and thought in a puzzled way. "Perhaps they are both the same thing. How can we know the exact names of everything? Sing it again, Dickon. Let us try, Mary. I want to sing it, too. It's my song. How does it begin? 'Praise God from whom all blessings flow'?" . . .

The door in the ivied wall had been pushed gently open and a woman had entered. She had come in with the last line of their song and she had stood still listening and looking at them. With the ivy behind her, the sunlight drifting through the trees and dappling her long blue cloak, and her nice fresh face smiling across the greenery she was rather like a softly colored illustration in one of Colin's books. She had wonderful affectionate eyes which seemed to take everything in—all of them, even Ben Weatherstaff and the "creatures" and every flower that was in bloom. Unexpectedly as she had appeared, not one of them felt that she was an intruder at all. Dickon's eyes lighted like lamps. ()

The Secret Garden, Chapter 26.
From The House of the Seven Gables:
It was the Sabbath morning; one of those bright, calm Sabbaths, with its own hallowed atmosphere, when Heaven seems to diffuse itself over the earth's face in a solemn smile, no less sweet than solemn. On such a Sabbath morn, were we pure enough to be its medium, we should be conscious of the earth's natural worship ascending through our frames, on whatever spot of ground we stood. The church-bells, with various tones, but all in harmony, were calling out and responding to one another,—"It is the Sabbath!—The Sabbath!—Yea; the Sabbath!"—and over the whole city the bells scattered the blessed sounds, now slowly, now with livelier joy, now one bell alone, now all the bells together, crying earnestly,—"It is the Sabbath!"—and flinging their accents afar off, to melt into the air and pervade it with the holy word. The air with God's sweetest and tenderest sunshine in it, was meet for mankind to breathe into their hearts, and send it forth again as the utterance of prayer.

The House of the Seven Gables, Chapter 11.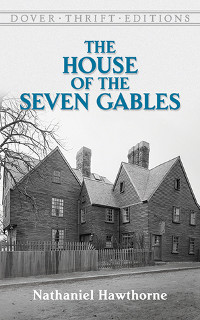 The healing that takes place in both novels depends on the nurturing influence of people who are healthy—or who are at least growing in health—in body, mind, and spirit. Hawthorne observes, however, that that even those with great nurturing powers need their bodies, minds, and spirits replenished by wholesome activities:
A flower, . . . as Phoebe herself observed, always began to droop sooner in Clifford's hand, or Hepzibah's, than in her own; and by the same law, converting her whole daily life into a flower fragrance for these two sickly spirits, the blooming girl must inevitably droop and fade much sooner than if worn on a younger and happier breast. Unless she had now and then indulged her brisk impulses, and breathed rural air in a suburban walk, or ocean breezes along the shore,—had occasionally obeyed the impulse of Nature, in New England girls, by attending a metaphysical or philosophical lecture, or viewing a seven-mile panorama, or listening to a concert,—had gone shopping about the city, ransacking entire depots of splendid merchandise, and bringing home a ribbon,—had employed, likewise, a little time to read the Bible in her chamber, and had stolen a little more to think of her mother and her native place—unless for such moral medicines as the above, we should soon have beheld our poor Phoebe grow thin and put on a bleached, unwholesome aspect, and assume strange, shy ways, prophetic of old-maidenhood and a cheerless future.

The House of the Seven Gables, Chapter 12.
Phoebe doesn't "grow thin and put on a bleached, unwholesome aspect," but she does change in some profound ways. She says it best herself:
"I have been happier than I am now; at least, much gayer," said Phoebe thoughtfully. "Yet I am sensible of a great charm in this brightening moonlight; and I love to watch how the day, tired as it is, lags away reluctantly, and hates to be called yesterday so soon. I never cared much about moonlight before. What is there, I wonder, so beautiful in it, to-night?"

"And you have never felt it before?" inquired the artist, looking earnestly at the girl through the twilight.

"Never," answered Phoebe; "and life does not look the same, now that I have felt it so. It seems as if I had looked at everything, hitherto, in broad daylight, or else in the ruddy light of a cheerful fire, glimmering and dancing through a room. Ah, poor me!" she added, with a half-melancholy laugh. "I shall never be so merry as before I knew Cousin Hepzibah and poor Cousin Clifford. I have grown a great deal older, in this little time. Older, and, I hope, wiser, and,—not exactly sadder,—but, certainly, with not half so much lightness in my spirits! I have given them my sunshine, and have been glad to give it; but, of course, I cannot both give and keep it. They are welcome, notwithstanding!"

"You have lost nothing, Phoebe, worth keeping, nor which it was possible to keep," said Holgrave after a pause. "Our first youth is of no value; for we are never conscious of it until after it is gone. But sometimes—always, I suspect, unless one is exceedingly unfortunate—there comes a sense of second youth, gushing out of the heart's joy at being in love; or, possibly, it may come to crown some other grand festival in life, if any other such there be. This bemoaning of one's self (as you do now) over the first, careless, shallow gayety of youth departed, and this profound happiness at youth regained,—so much deeper and richer than that we lost,—are essential to the soul's development. In some cases, the two states come almost simultaneously, and mingle the sadness and the rapture in one mysterious emotion."

The House of the Seven Gables, Chapter 14.
In applying her curative powers, Phoebe changes as much as those she helps, and that's a good thing. Both The Secret Garden and The House of the Seven Gables show that as both the patient and the healer are willing to acknowledge the disease and utilize God's light to heal, they can, in time, experience a deeper, richer joy than they ever thought possible.
---
The photo "White Dogwood and Purple Phlox" is credited to Novaun Novels and is licensed as follows:
This work by Novaun Novels is licensed under a Creative Commons Attribution-ShareAlike 4.0 International License.