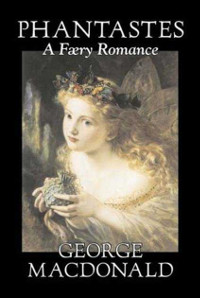 Phantastes, by George MacDonald (classic fantasy)
"First published in London in 1858, this adult fantasy novel follows Anodos, a man who searches for his ideal of female beauty in a dream-like world. Anodos has many adventures and faces many temptations in this fairyland, from tree spirit confrontations to a long trek to the palace of the fairy queen, where he eventually meets the Marble Lady. MacDonald would later astonish and influence writers such as C. S. Lewis, J. R. R. Tolkien, and W. H. Auden, who saw in this work the successful embodiment of the depth and meaning of our inner, spiritual world. The poignancy of 'Phantastes' lies in its representation of a spiritual quest, one in which ideals are compromised, and the ultimate surrender of the self brings both overflowing joy and profound sadness."
---
The women in my book group wanted to try something written by George MacDonald, so I recommended "The Light Princess," thinking they would like that one better than Lilith, which is quite strange in a way I wasn't sure the other members of the group would appreciate. After I re-read "The Light Princess," I decided to try Phantastes. Phantastes isn't a long novel, but it took me several weeks to get through it. Part of that was because the plot structure was episodic, lacking a strong narrative drive, but more than anything, George MacDonald simply isn't a writer one can read fast. His work, like poetry, demands to be savored.
In Phantastes, Anodos is on a quest to yield to the "enticings of the Holy Spirit" and put off "the natural man and becometh a saint through the atonement of Christ the Lord" (Book of Mormon, Mosiah 3:19). The apostle Paul describes this spiritual rebirth with these words: "Therefore if any man be in Christ, he is a new creature: old things are passed away; behold, all things are become new" (2 Cor 5:17). MacDonald creatively describes the final stages of this process:
About noon, I started as if something foreign to all my senses and all my experience, had suddenly invaded me; yet it was only the voice of a woman singing. My whole frame quivered with joy, surprise, and the sensation of the unforeseen. Like a living soul, like an incarnation of Nature, the song entered my prison-house. Each tone folded its wings, and laid itself, like a caressing bird, upon my heart. It bathed me like a sea; inwrapt me like an odorous vapour; entered my soul like a long draught of clear spring-water; shone upon me like essential sunlight; soothed me like a mother's voice and hand. Yet, as the clearest forest-well tastes sometimes of the bitterness of decayed leaves, so to my weary, prisoned heart, its cheerfulness had a sting of cold, and its tenderness unmanned me with the faintness of long-departed joys. I wept half-bitterly, half-luxuriously; but not long. I dashed away the tears, ashamed of a weakness which I thought I had abandoned. Ere I knew, I had walked to the door, and seated myself with my ears against it, in order to catch every syllable of the revelation from the unseen outer world. . . .

Then first I knew the delight of being lowly; of saying to myself, "I am what I am, nothing more." "I have failed," I said, "I have lost myself—would it had been my shadow." I looked round: the shadow was nowhere to be seen. Ere long, I learned that it was not myself, but only my shadow, that I had lost. I learned that it is better, a thousand-fold, for a proud man to fall and be humbled, than to hold up his head in his pride and fancied innocence. I learned that he that will be a hero, will barely be a man; that he that will be nothing but a doer of his work, is sure of his manhood. In nothing was my ideal lowered, or dimmed, or grown less precious; I only saw it too plainly, to set myself for a moment beside it. Indeed, my ideal soon became my life; whereas, formerly, my life had consisted in a vain attempt to behold, if not my ideal in myself, at least myself in my ideal. Now, however, I took, at first, what perhaps was a mistaken pleasure, in despising and degrading myself. Another self seemed to arise, like a white spirit from a dead man, from the dumb and trampled self of the past. Doubtless, this self must again die and be buried, and again, from its tomb, spring a winged child; but of this my history as yet bears not the record.

Self will come to life even in the slaying of self; but there is ever something deeper and stronger than it, which will emerge at last from the unknown abysses of the soul: will it be as a solemn gloom, burning with eyes? or a clear morning after the rain? or a smiling child, that finds itself nowhere, and everywhere?

Chapter 22
As eloquent as MacDonald's descriptions of an individual's quest for holiness are, he also gives what I interpret as more of a panoramic view of the "enticings of the Holy Spirit" over the earth as a planet and as a community. While the "Faerie" of the novel isn't meant to be a replica of Heaven, it does share some characteristics with it, particularly the quality of being dreamlike and/or elusive to the average mortal. This passage is so beautiful and so true in its vision of the connection between Heaven and the earth that I want to read it over and over again:
As through the hard rock go the branching silver veins; as into the solid land run the creeks and gulfs from the unresting sea; as the lights and influences of the upper worlds sink silently through the earth's atmosphere; so doth Faerie invade the world of men, and sometimes startle the common eye with an association as of cause and effect, when between the two no connecting links can be traced.

Chapter 13
---
The featured image came from Pixabay.