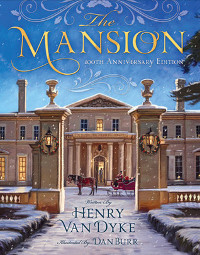 "The Mansion," by Henry Van Dyke (American classic, story)
"John Weightman wanted the best of everything. He surrounded himself with beauty and riches, and was very careful with how he spent his money. 'No pennies in beggars' hats,' he liked to say. Until one night he dreamed that he died . . .
"Finding himself with a group of travelers dressed in white, John joins them on their journey to the Celestial City where each individual will be rewarded with a mansion based on treasures set aside. Thinking that his mansion will be the most grand, John Weightman learns what it truly means to lay up treasures in heaven."
"The Story of the Other Wise Man," by Henry Van Dyke (American classic, story)
"Long, long ago, a wise man named Artaban, a priest of the Magi, discerned from heavenly signs that the time was at hand for the fulfillment of an ancient prophecy—the birth among the Hebrews of a holy Prince and Deliverer of Man. Hastening to join three fellow Magi for the long journey into Judaea, he paused to help a dying man and was left behind. And so Artaban began his pilgrimage alone, striking out not toward the realization of his life's deepest longing, as he hoped, but only toward misfortune and suffering. Or so he believed until one blessed, radiant moment."
---
These two classic Christmas stories illuminate the human progression from goodness to righteousness to holiness.
In "The Mansion," John Weightman is a great man by his society's standards who has done a lot of good for the community around him, detailed in these paragraphs:
There was a pile of newspaper clippings in which his name was mentioned with praise for his sustaining power as a pillar of finance, for his judicious benevolence, for his support of wise and prudent reform movements, for his discretion in making permanent public gifts—"the Weightman Charities," one very complaisant editor called them, as if they deserved classification as a distinct species. He turned the papers over listlessly. There was a description and a picture of the "Weightman Wing of the Hospital for Cripples," of which he was president; and an article on the new professor in the "Weightman Chair of Political Jurisprudence" in Jackson University, of which he was a trustee; and an illustrated account of the opening of the "Weightman Grammar-School" at Dulwich-on-the-Sound, where he had his legal residence for purposes of taxation.

This last was perhaps the most carefully planned of all the Weightman Charities. He desired to win the confidence and support of his rural neighbors. It had pleased him much when the local newspaper had spoken of him as an ideal citizen and the logical candidate for the Governorship of the State; but upon the whole it seemed to him wiser to keep out of active politics. It would be easier and better to put Harold into the running, to have him sent to the Legislature from the Dulwich district, then to the national House, then to the Senate. Why not? The Weightman interests were large enough to need a direct representative and guardian at Washington.
When he dreams about the Celestial City, he comes to understand that his idea of greatness isn't adequate for that realm:
The lives of others in the company were revealed in brief glimpses as they talked together—a mother, early widowed, who had kept her little flock of children together and labored through hard and heavy years to bring them up in purity and knowledge—a Sister of Charity who had devoted herself to the nursing of poor folk who were being eaten to death by cancer—a schoolmaster whose heart and life had been poured into his quiet work of training boys for a clean and thoughtful manhood—a medical missionary who had given up a brilliant career in science to take the charge of a hospital in darkest Africa—a beautiful woman with silver hair who had resigned her dreams of love and marriage to care for an invalid father, and after his death had made her life a long, steady search for ways of doing kindnesses to others—a poet who had walked among the crowded tenements of the great city, bringing cheer and comfort not only by his songs, but by his wise and patient works of practical aid—a paralyzed woman who had lain for thirty years upon her bed, helpless but not hopeless, succeeding by a miracle of courage in her single aim, never to complain, but always to impart a bit of joy and peace to every one who came near her. All these, and other persons like them, people of little consideration in the world, but now seemingly all full of great contentment and an inward gladness that made their steps light, were in the company that passed along the road, talking together of things past and things to come, and singing now and then with clear voices from which the veil of age and sorrow was lifted.
This passage illuminates a quotation I've long loved from a leader of my own church:
Those things which we call extraordinary, remarkable, or unusual may make history, but they do not make real life.

After all, to do well those things which God ordained to be the common lot of all mankind, is the truest greatness. To be a successful father or a successful mother is greater than to be a successful general or a successful statesman.

Joseph F. Smith, Juvenile Instructor, December 15, 1905, p. 752. Cited by Howard W. Hunter in "What Is True Greatness?" BYU Speeches, February 10, 1987.
After learning that his inheritance in the Celestial City is not equal to the mansions inherited by the people who had done "well those things which God ordained to be the common lot of all mankind," John Weightman begins to understand that he needs to change; he is a good man who starts down the road to true righteousness.
Artaban, the protagonist of "The Gift of the Other Wise Man," is already a righteous man who understands that all of the knowledge he has is not enough. Here are a few of his thoughts on the matter:
"The stars," said Tigranes, "are the thoughts of the Eternal. They are numberless. But the thoughts of man can be counted, like the years of his life. The wisdom of the Magi is the greatest of all wisdoms on earth, because it knows its own ignorance. And that is the secret of power. We keep men always looking and waiting for a new sunrise. But we ourselves know that the darkness is equal to the light, and that the conflict between them will never be ended."

"That does not satisfy me," answered Artaban, "for, if the waiting must be endless, if there could be no fulfilment of it, then it would not be wisdom to look and wait. We should become like those new teachers of the Greeks, who say that there is no truth, and that the only wise men are those who spend their lives in discovering and exposing the lies that have been believed in the world. But the new sunrise will certainly dawn in the appointed time. Do not our own books tell us that this will come to pass, and that men will see the brightness of a great light?"

"That is true," said the voice of Abgarus; "every faithful disciple of Zoroaster knows the prophecy of the Avesta and carries the word in his heart. 'In that day Sosiosh the Victorious shall arise out of the number of the prophets in the east country. Around him shall shine a mighty brightness, and he shall make life everlasting, incorruptible, and immortal, and the dead shall rise again.'"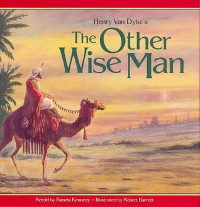 Artaban tells his father and friends that he has prepared for a journey to pay tribute to the prophesied King. He has sold his house and his possessions to buy the sapphire, ruby, and pearl that will be his gifts to Him. He embarks on a holy quest that turns out to be nothing like he expected. In the end, he comes to understand that his noble life has been the best gift he could give to the King. Van Dyke describes a noble life by comparing it to a pearl:
It seemed almost as if [Artaban] had forgotten his quest. But once I saw him for a moment as he stood alone at sunrise, waiting at the gate of a Roman prison. He had taken from a secret resting-place in his bosom the pearl, the last of his jewels. As he looked at it, a mellower lustre, a soft and iridescent light, full of shifting gleams of azure and rose, trembled upon its surface. It seemed to have absorbed some reflection of the colours of the lost sapphire and ruby. So the profound, secret purpose of a noble life draws into itself the memories of past joy and past sorrow. All that has helped it, all that has hindered it, is transfused by a subtle magic into its very essence. It becomes more luminous and precious the longer it is carried close to the warmth of the beating heart.
Van Dyke's comparison of a noble life to a pearl reminds me of these verses from the Bible:
And he shall sit as a refiner and purifier of silver: and he shall purify the sons of Levi, and purge them as gold and silver, that they may offer unto the Lord an offering in righteousness. . . .

And they shall be mine, saith the Lord of hosts, in that day when I make up my jewels; and I will spare them, as a man spareth his own son that serveth him.

Malachi 3:3,7
---
The featured image came from Pixabay.