Ruth, by Elizabeth Gaskell (English classic)
"Ruth Hilton is an orphaned young seamstress who catches the eye of a gentleman, Henry Bellingham, who is captivated by her simplicity and beauty. When she loses her job and home, he offers her comfort and shelter, only to cruelly desert her soon after. Nearly dead with grief and shame, Ruth is offered the chance of a new life among people who give her love and respect, even though they are at first unaware of her secret—an illegitimate child."
---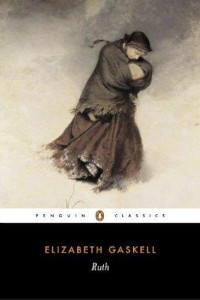 Ruth is a deeply religious novel that explores the intellectual, social, and spiritual life of a "fallen" young woman. The depiction of the attitudes and mores of mid-nineteen century England fascinated me and often made me angry. By modern standards, and in many places, the innocent and sexually ignorant sixteen-year-old Ruth would be a victim of statutory rape. I was appalled at the way so many wanted to vindicate the seducer and assume he was "beguiled" by this "very artful and bold young creature."
After being so carefully groomed, used, and then deserted by her seducer, Ruth is found ill and in despair by a middle-aged minister who takes her to his home to live with him, his sister, and their housekeeper. Thurstan and Faith Benson make enormous social and financial sacrifices to take Ruth into their home, and Faith is, naturally, disturbed by Ruth's lack of gratitude. Her brother consoles her with these words:
"Her thoughts are full of other things just now; and people have such different ways of showing feeling: some by silence, some by words. At any rate, it is unwise to expect gratitude."

"What do you expect—not indifference or ingratitude?" "It is better not to expect or calculate consequences. The longer I live, the more fully I see that. Let us try simply to do right actions, without thinking of the feelings they are to call out in others. We know that no holy or self-denying effort can fall to the ground vain and useless; but the sweep of eternity is large, and God alone knows when the effect is to be produced. We are trying to do right now, and to feel right; don't let us perplex ourselves with endeavouring to map out how she should feel, or how she should show her feelings."

Chapter 7: "Losing Sight of the Welsh Mountains."
Although Thurstan and Faith Benson are flawed human beings and don't always agree on how to proceed, they both show amazing courage and spiritual discernment as they look beyond the social and religious norms of the time in an effort to treat Ruth as they think Christ, Himself, would treat her.
My church teaches that victims of abuse aren't guilty of sin. Gaskell doesn't erase Ruth's culpability to quite that degree, but she does do a wonderful job showing that Ruth has to develop a relationship with God to receive the healing that only He can give. Ruth finds the spiritual nourishment she so desperately needs in the Benson home:
It was, indeed, a purer ether, a diviner air, which she was breathing in now, than what she had been accustomed to for long months. . . . In the Bensons' house there was the same unconsciousness of individual merit, the same absence of introspection and analysis of motive, as there had been in her mother; but it seemed that their lives were pure and good, not merely from a lovely and beautiful nature, but from some law, the obedience to which was, of itself, harmonious peace, and which governed them almost implicitly, and with as little questioning on their part, as the glorious stars which haste not, rest not, in their eternal obedience.

Chapter 8: "The Dissenting Minister's Household."
Ruth's soul grows in this wholesome atmosphere, and when she encounters her seducer several years later, she is able to perceive his personality and intentions far more accurately than before. At this point, Ruth is forced to confront her own feelings for the man and make decisions regarding the future relationship she and her son can have with him.
One of the things I love about this book is that it explores the spiritual dimension of sexual relations outside of marriage with a complexity I've rarely seen in fiction. Many stories focus on the physical consequences, along with the social and, at best, merely touch on the spiritual. Because Gaskell's focus is on Ruth's spiritual redemption, ending Ruth's journey with this final judgment from the Bible feels like the natural culmination of everything that has come before:
And he said to me, These are they which came out of great tribulation, and have washed their robes, and made them white in the blood of the Lamb.

Therefore are they before the throne of God, and serve him day and night in his temple: and he that sitteth on the throne shall dwell among them.

They shall hunger no more, neither thirst any more; neither shall the sun light on them, nor any heat. For the Lamb which is in the midst of the throne shall feed them, and shall lead them unto living fountains of waters: and God shall wipe away all tears from their eyes.

Revelation 7:14-17, quoted in Chapter 36: "The End."
This conclusion allows readers to contemplate the rewards of eternity available to all who come to Christ—regardless of what sort of situation they're coming from—and gives us a reason to rejoice!
---
The featured image "Moonset with Clouds" is Copyright © 2023 by Katherine Padilla.