The Enchanted April, by Elizabeth von Arnim (English Classic)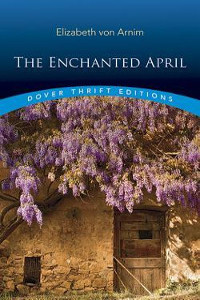 "Drawn by a promise of 'wisteria and sunshine,' four English ladies exchange their damp and dreary surroundings for a month on the Italian Riviera. They're different from each other in age and attitude, but all are bewitched by their rented medieval castle and the natural beauty of the Portofino peninsula. Their holiday not only refreshes their spirits but also reintroduces them to their true natures and reopens their hearts to love and friendship."
---
I've been busy at work on Book 3 of the Dominion Over the Earth series, Day of Liberation, since the beginning of February and have had little desire to put my mind in the stories or even observations of other authors. I've had even less desire to put any of my own observations on anything I've read into a blog post, and I had pretty much determined that I am incapable of serious blogging and obsessive novel-writing at the same time. The Enchanted April, however, pulled me out of my fantasy world and into the real one long enough to write a blog post, which is ironic, since the book itself has the feel of a fairy tale.
In the last chapter of the book, Lady Caroline is still resisting the transforming charm of San Salvatore. She distills the renewal she's witnessed in the other women and their relationships into this simple thought: "Beauty made you love, and love made you beautiful."
At the beginning of the novel, all four women feel oppressed by their lives and relationships. They don't admit that what they're feeling, seeing, and experiencing is ugliness, but instinctively, they know it. They all respond to advertisements that promise they can leave their oppressive lives behind and step into a world of beauty for just one month. Two of the characters, in particular, struggle with the idea that it's actually all right to experience beauty, to spend money on themselves, and to take a vacation.
Once in the beautiful place, the characters, one by one, begin believing that they deserve to experience lives of beauty and even love, and they begin realizing that others, too, deserve the same, particularly those closest to them. They begin seeing those around them in a new way—as people who, despite very real weaknesses, are beautiful. Even the owner of the home—the creator of the beauty—is recognized as having a part in this all-encompassing transformation. Doesn't he deserve to be the beneficiary of love also?
This little book makes it all seem so simple, and perhaps, on some level, it really is. It makes me ponder the renewing power of the beautiful places in my own life. I love to sit on the beach in North Carolina, surrounded by the salty water as the waves crash in front of me and the foam surrounds me in the surf.
I don't quite love sailing yet, but being on the Chesapeake Bay in a sailboat with my husband, soothed by the silence and the sight of water for miles all around us, does give me serenity—when all is still and the wind is sedate.
In those moments, I can't help but ponder and examine my life. I believe that solitude—or semi-solitude—in a beautiful place encourages that kind of self-reflection. I think that's why these thoughts of Lady Caroline at the end of the book feel so true:
She pulled her wrap closer round her with a gesture of defence, of keeping out and off. She didn't want to grow sentimental. Difficult not to, here; the marvelous night stole in through all one's chinks, and brought in with it, whether one wanted them or not, enormous feelings—feelings one couldn't manage, great things about death and time and waste; glorious and devastating things, magnificent and bleak, at once rapture and terror and immense, heart-cleaving longing. She felt small and dreadfully alone. She felt uncovered and defenceless. Instinctively she pulled her wrap closer. With this thing of chiffon she tired to protect herself from the eternities.

Chapter 22
In those slow moments surrounded by nature, I can't help but think of the Creator and His love for me and everyone else who shares this beautiful planet with me. Even Lady Caroline, in the end, realizes that she's defending herself against something that isn't her enemy. Eternity is glorious! Why protect ourselves from it?
---
The photos "Blue Hydrangeas," "Silver Ocean," and "Sailing on the Chesapeake" are credited to Novaun Novels and licensed as follows:
This work by Novaun Novels is licensed under a Creative Commons Attribution-ShareAlike 4.0 International License.